Loobo Lb-JZX welding portable dust collector fpr welding smoke suction
Use for purification of the smoke and dust during the welding, polishing, cutting, grinding process and the recycling of rare metals and precious material, can purify large amounts of suspended small metallic particles in the air.

We Loobo have done the fume and dust collection field since year 2003, so we are a team of experienced and professional on the various welding fume extraction conditions after so many years practice.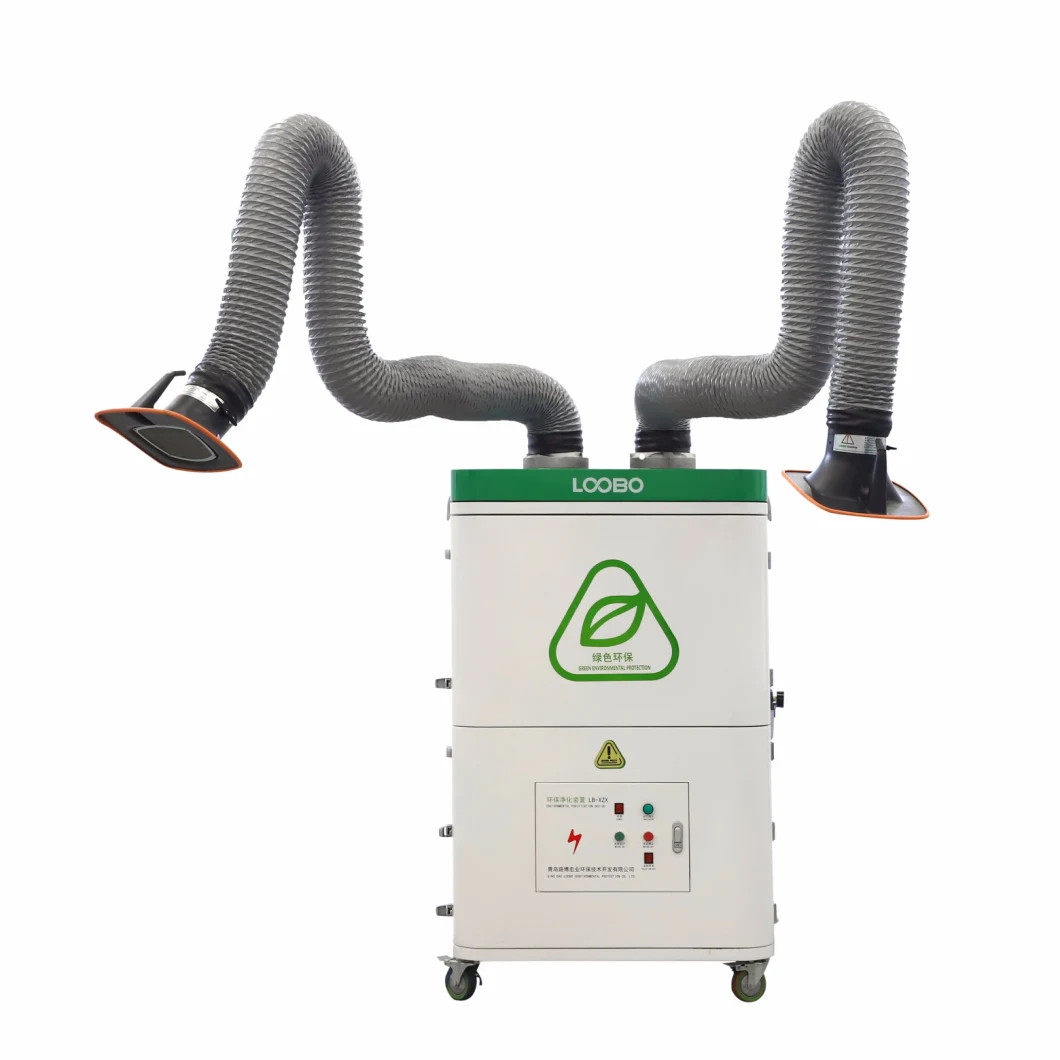 During welding condition, welding fumes/gas genarated, these fumes contain argon, carbon monoxide, cabon dioxide, and hydrogen fluoride gases, among others, besides, these fumes contain a variety of metals arsenic, aluminum, beryllium, manganese, and lead, etc

Faceing such harmful fumes/gas, can cause serious heath problems, such as varous cancers, kidney failure, emphysema anemia, and lead poisoning among many other silent killers.

So a welding fume extractor is a must for the welding work, it will extract and purify the welding fume and keep a clean air environment for the welders.

It is very easy operation only via a few contral buttons to open the machine and the machine will start to work under the fan suction.
Operating Principle
It is equipped with three layer filter system
1, under the help of the fan device, the welding fume is sucked into inlet through sucking hood. There is the flame arrester in the inlet, so the spark can be blocked here, the left fume and dust is sucked into gravity separator, and then the bigger particles firstly descend into dust bag.
2, the smaller particles are arrested in the surface of core filter. The cleaner gas then flow into clean room after being purified by core filters.
3, in clean room, the clean gas is then further purified by active carbon. At last, the gas meets the required standards and enters into air or other required room.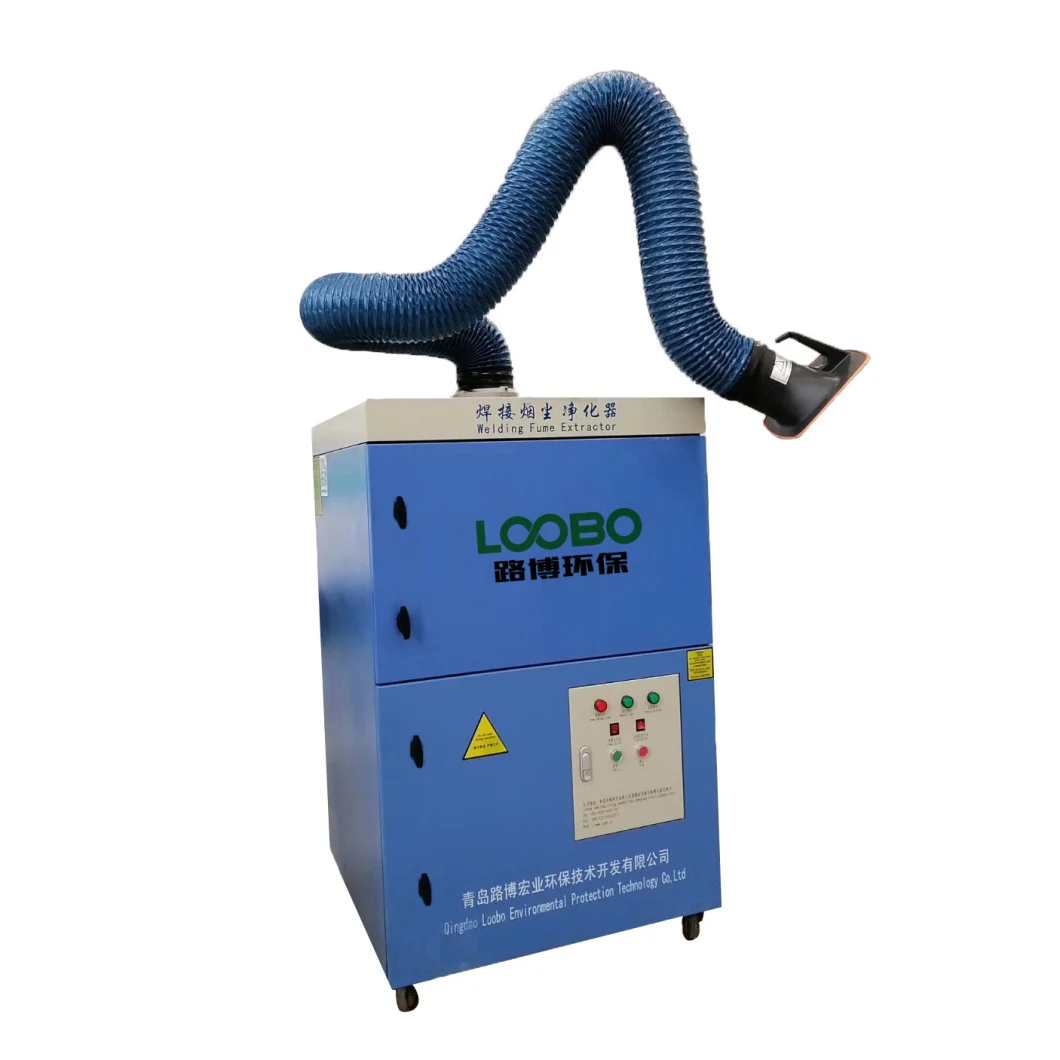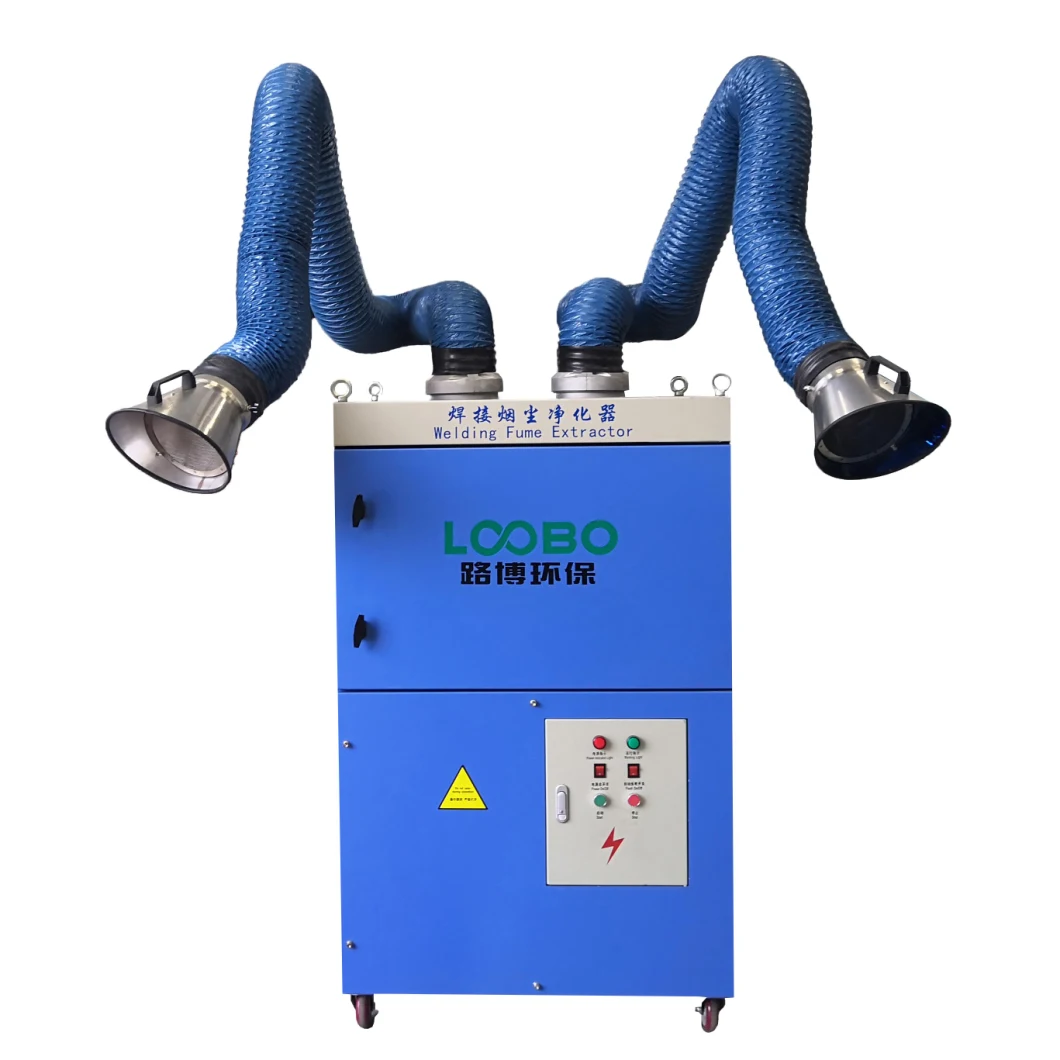 We have the machine with single arm and double arms, one arm model for one welding condtion, two arms type can be for two welding conditions.

All the models we desigend the auto pulse jet cleaning work, you only need to put out the cartridge filter when the airflow suction become smaller and treat the dust drawer regularlly.

The fume extractor can be used widely for various welding conditions, such as TIG, MIG,MAG,etc, hand welding, robot welding conditions.

Techinical parameter:
Model

Airflow

(M3/h)

Voltage(V)

Power(Kw)

SizeLxWxH (mm)

Compressed

air(mpa)

NoiseDb(A)

LB-JZX2400

2400

380V/50/3PH

2.2

900*800*1400

0.5-0.6

≤75

LB-JZX3600

3600

3.0

900*800*1400

≤78

LB-JZX4800

4800

4.0

900*800*1400

≤78

LB-JZX2400S

2400

2.2

900*800*1400

≤75

LB-JZX3600S

3600

3.0

900*800*1400

≤78

LB-JZX4800S

4800

4.0

900*800*1400

≤7

Here attached a few pictures about the machines used on the welding condition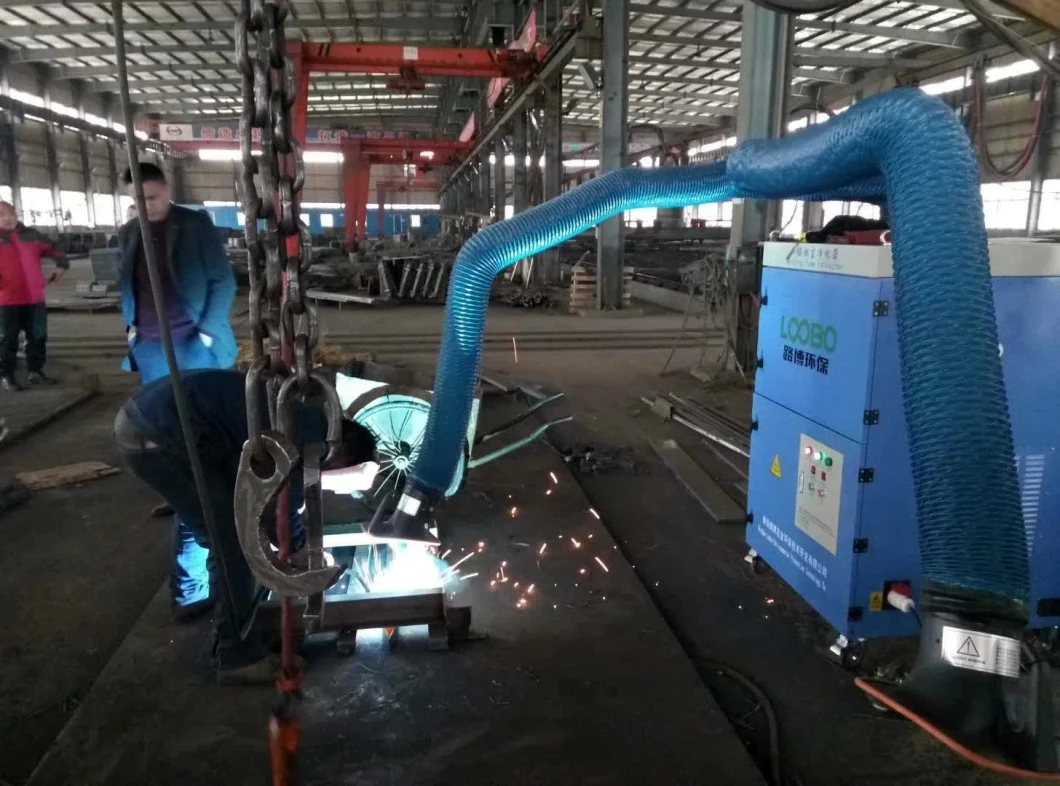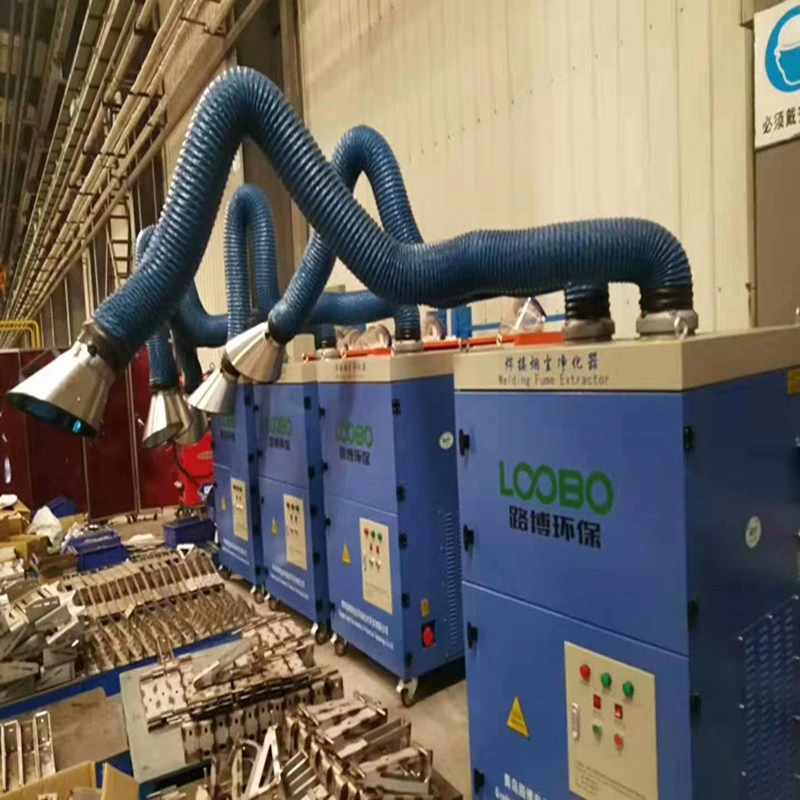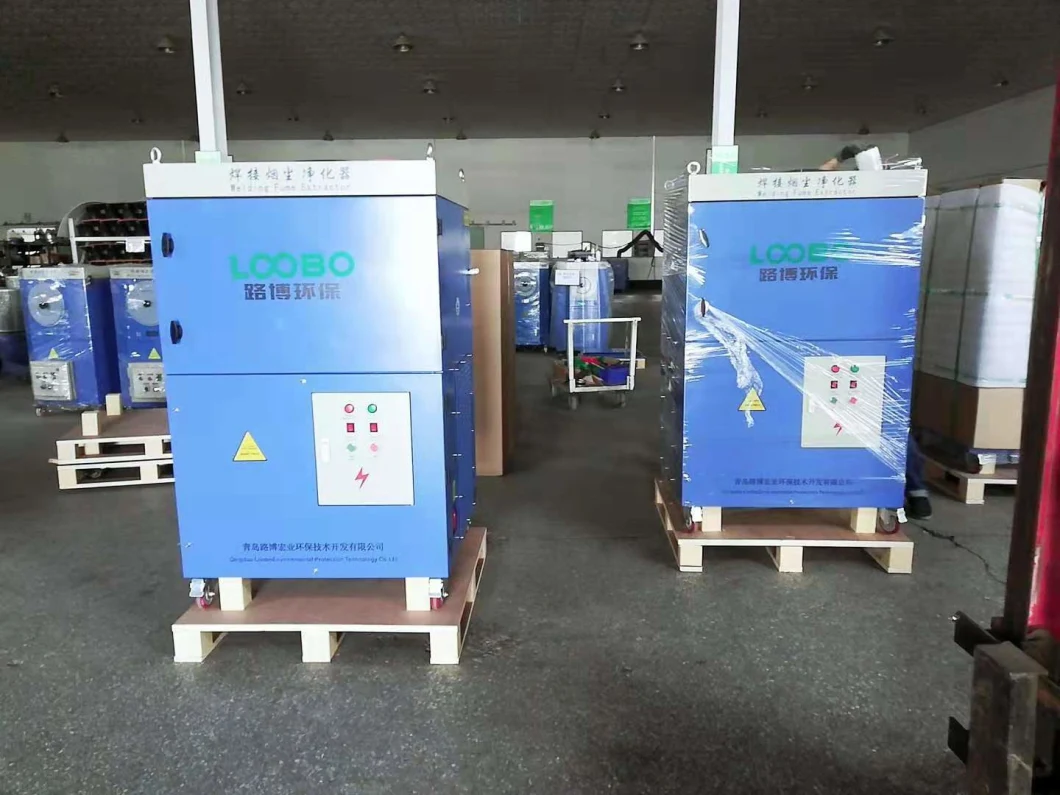 Packing via plywood box: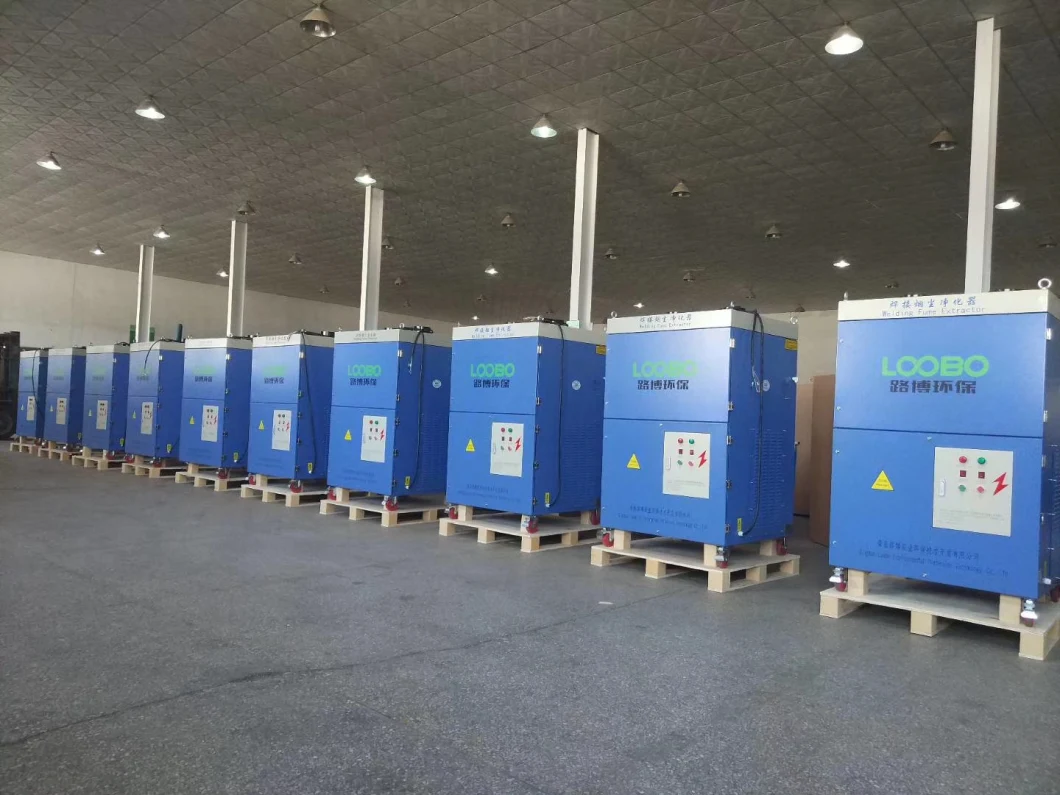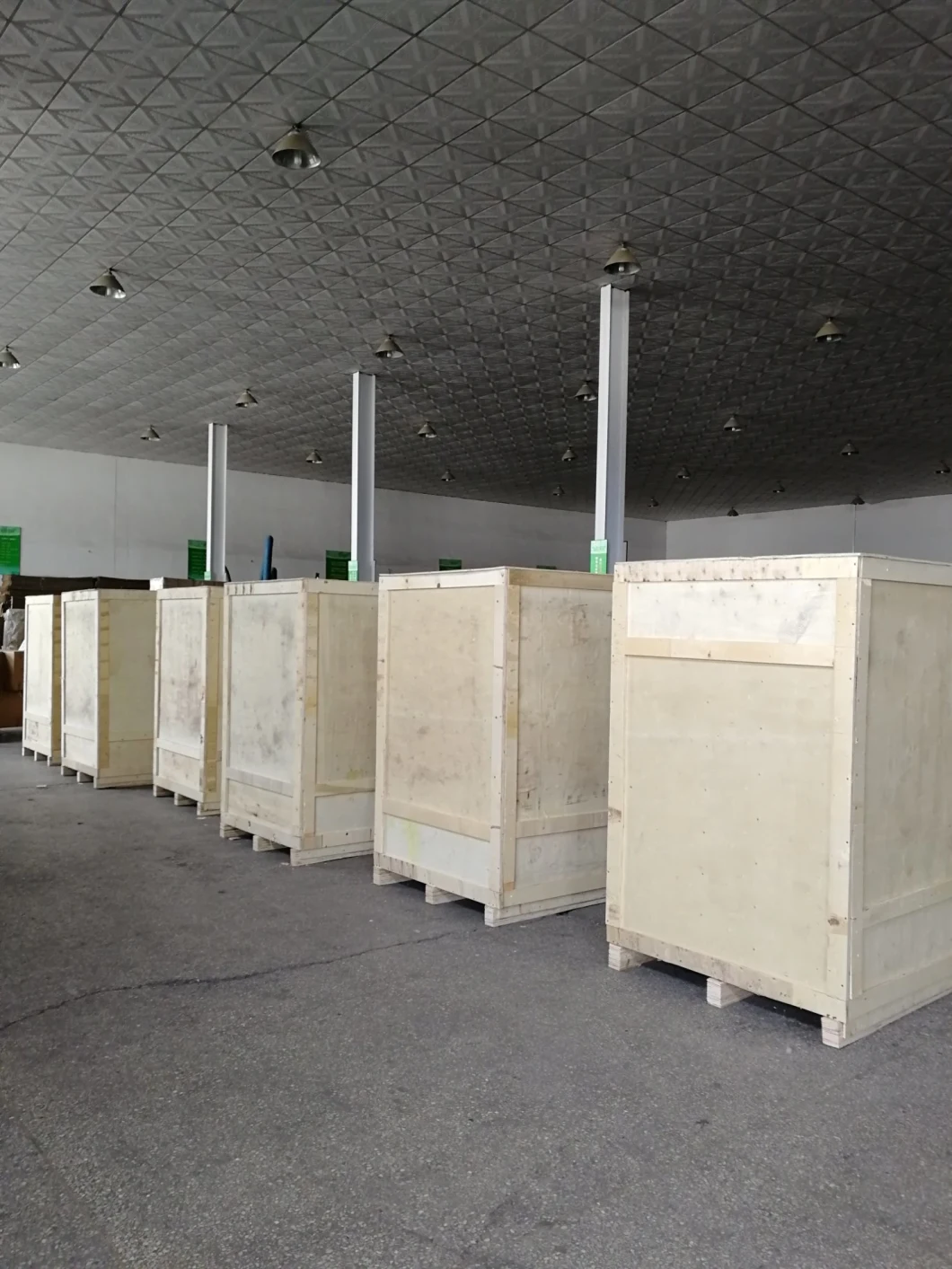 Company information:
Qingdao Loobo Environmental Protection Technology Co.,Ltd is one of the biggest enviromental protection products manufacturer, located in Qingdao city of china,specialized in alll kinds of portable fume extractor, downdraft benches(grinding dust removal worktable), central fume purification system, flexible suction arm,etc.

We have more than ten years export experience ,all of our products with the ISO9001 and CE certification, the quality can be guaranteed.

We have our own R&D department , have a variety of style range to meet any of your requirments and had established the economies of scale, so can dilivery fast and provide can beat your competitor's price.
Best Regards
Amy