Steel Structure Space Frame Poultry Shed Cow Shed Farm Building
Cow farm building description :
QINGDAO STEEL BUILDING CO.,LTD
Prefab steel cow farm building, dairy farm, cattle shed , cattle barn, cow shed, cow building, steel cattle building,
Prefab steel cow farm building, dairy cattle shed is a kind of light steel structure building in cow farm, the frame of the building consists of H section steel columns, H section steel beams and C or Z section purlins. Generally there are two types of cow house according to local environment and customer requirement, one is open type, the other is close type. Usually dairy cow house is close type which has whole wall and roof, some windows on wall. this type of cow house is less affected by the environment. According to the width of cow house, you can feed one row or two rows or multiply rows cow.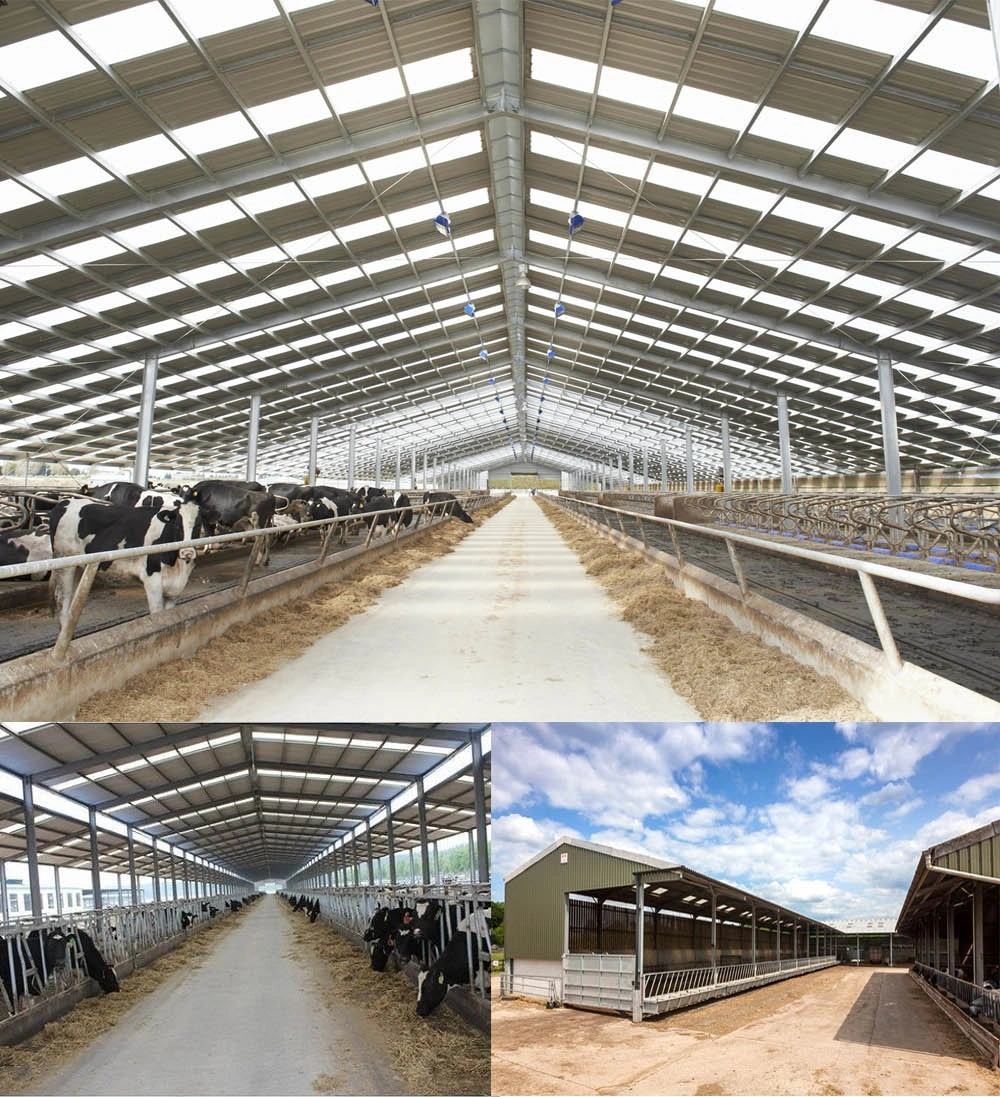 | | | | | |
| --- | --- | --- | --- | --- |
| Item | Popular size | Popular height | Coverage | Gate size |
| Cow shed | 10x60 | 3m | signle corrugated steel sheet | 4x3m |
| Cattle barn | 20x50m | 5m | insulation roof with single steel sheet wall | 4x4m |
| Dariy farm building | 16x36m | 4m | single steel sheet or only roof | 4x3.5m |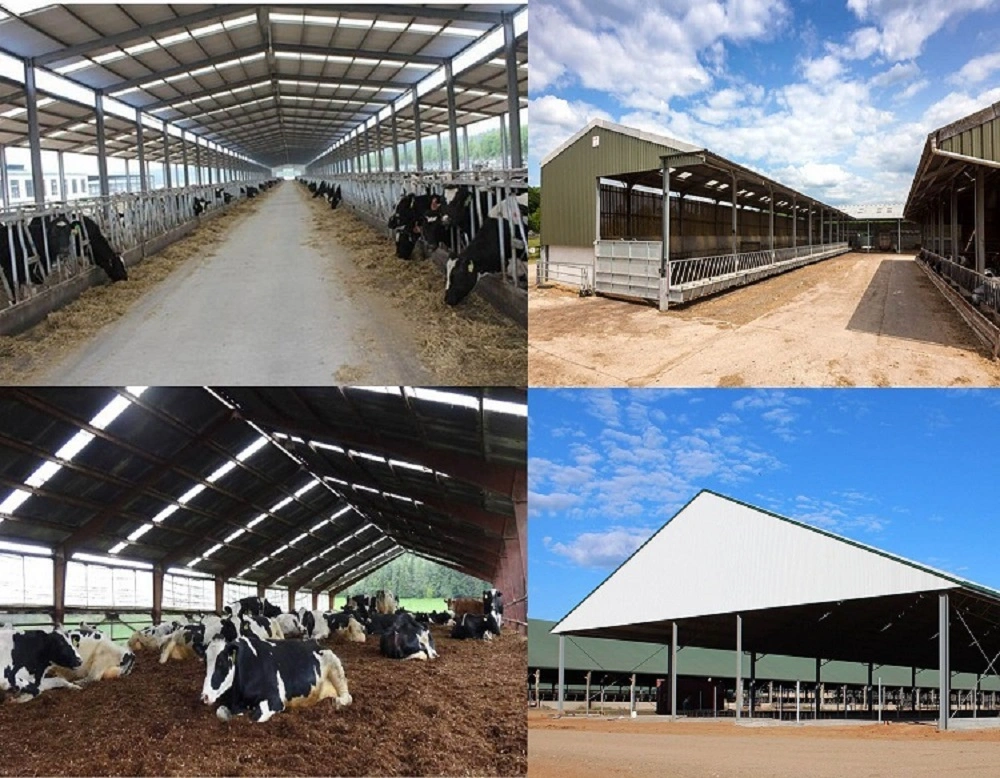 Cow shed type
Prefabricated steel structure cow shed use the high quality steel structure for the framework,steel sheet or sandwich panel for the wall/roof, this shed protects the cows from storm and rain.cold and warm, the cowshed can be small or large, we can customize the shed as per clients' requirements.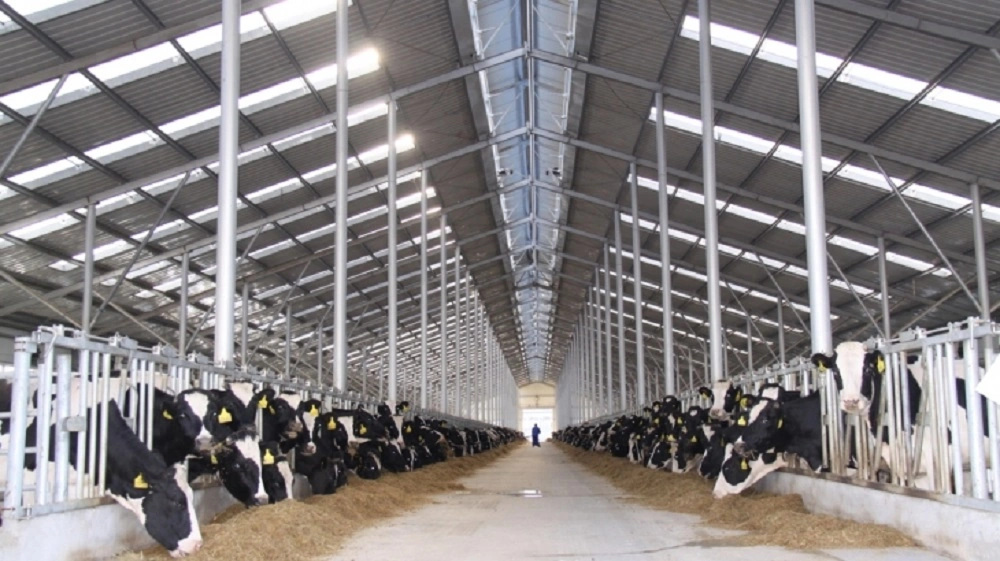 Cow shed show case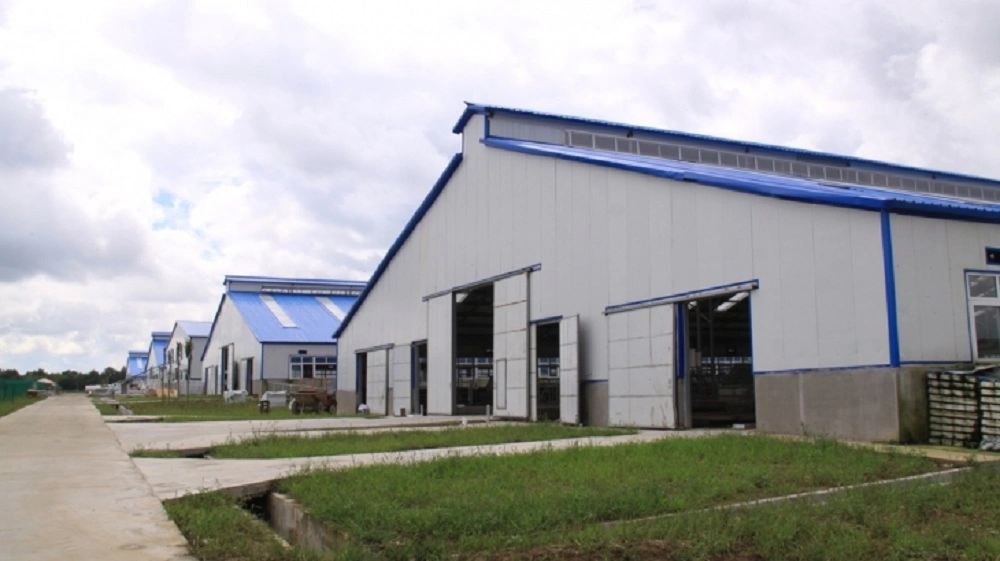 cattle farm building show case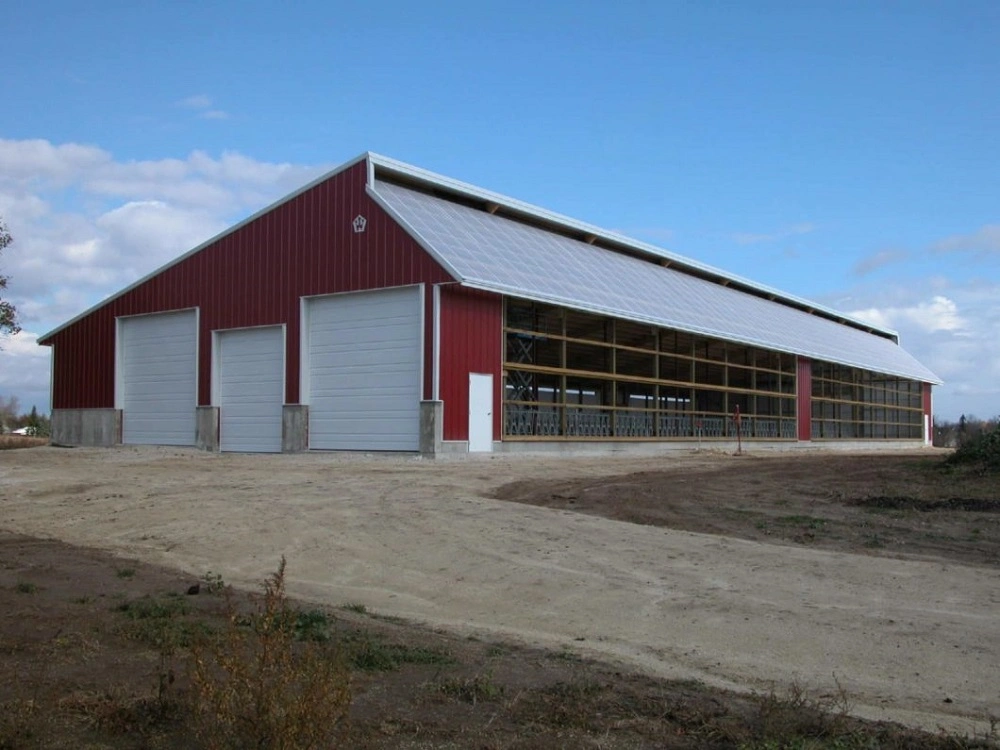 Cow shed show case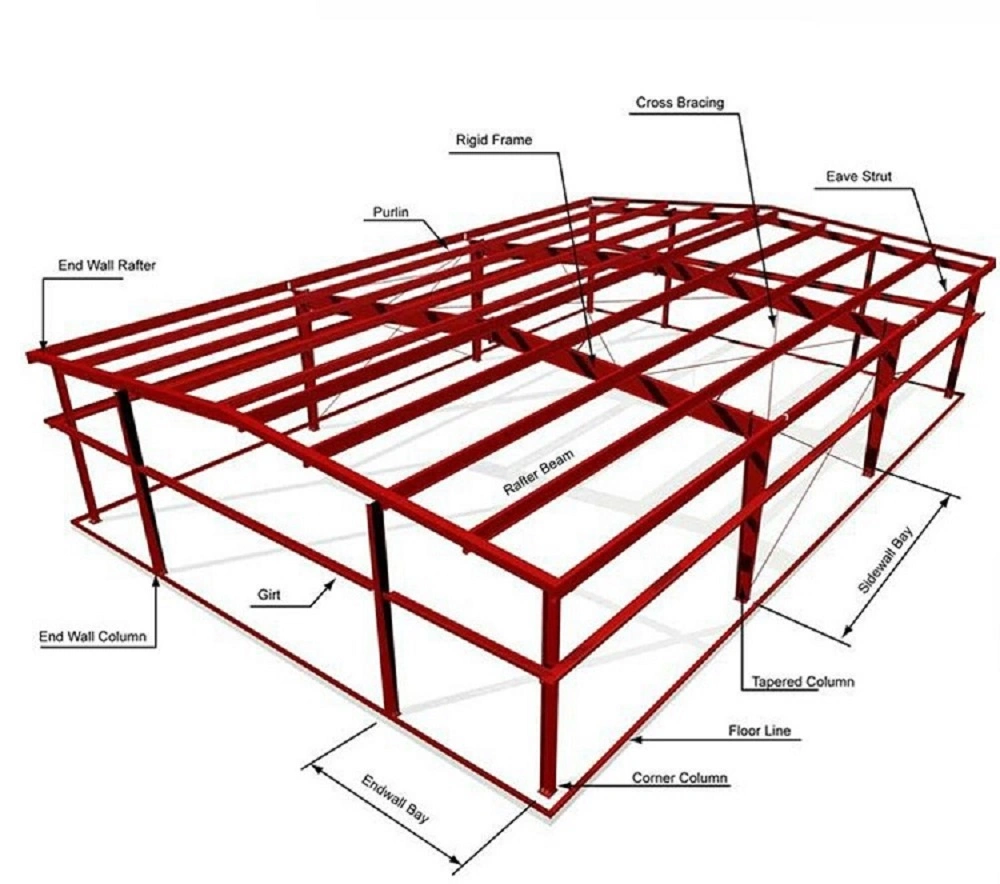 Steel structure cow shed 3D diagram
when you build a steel structure building, there are a lot of chooices for the type and apperance ,
For structure frame: you can make the building high and low span, lean to building, H section frame or tube frame ,hanrail, fence etc
For the building coverage:
you can choose brick wall height, single steel sheet, sandwich panel, skylight belt, ventilation fitting, out gutter, inner gutter, dow spout etc
For the window and door: you can choose sliding door , electricity roller shutter door, swing door, exist, sliding window, swing window,

top-hung window,vent etc
Cow farm building member you can choose
:
QINGDAO STEEL BUILDING CO.,LTD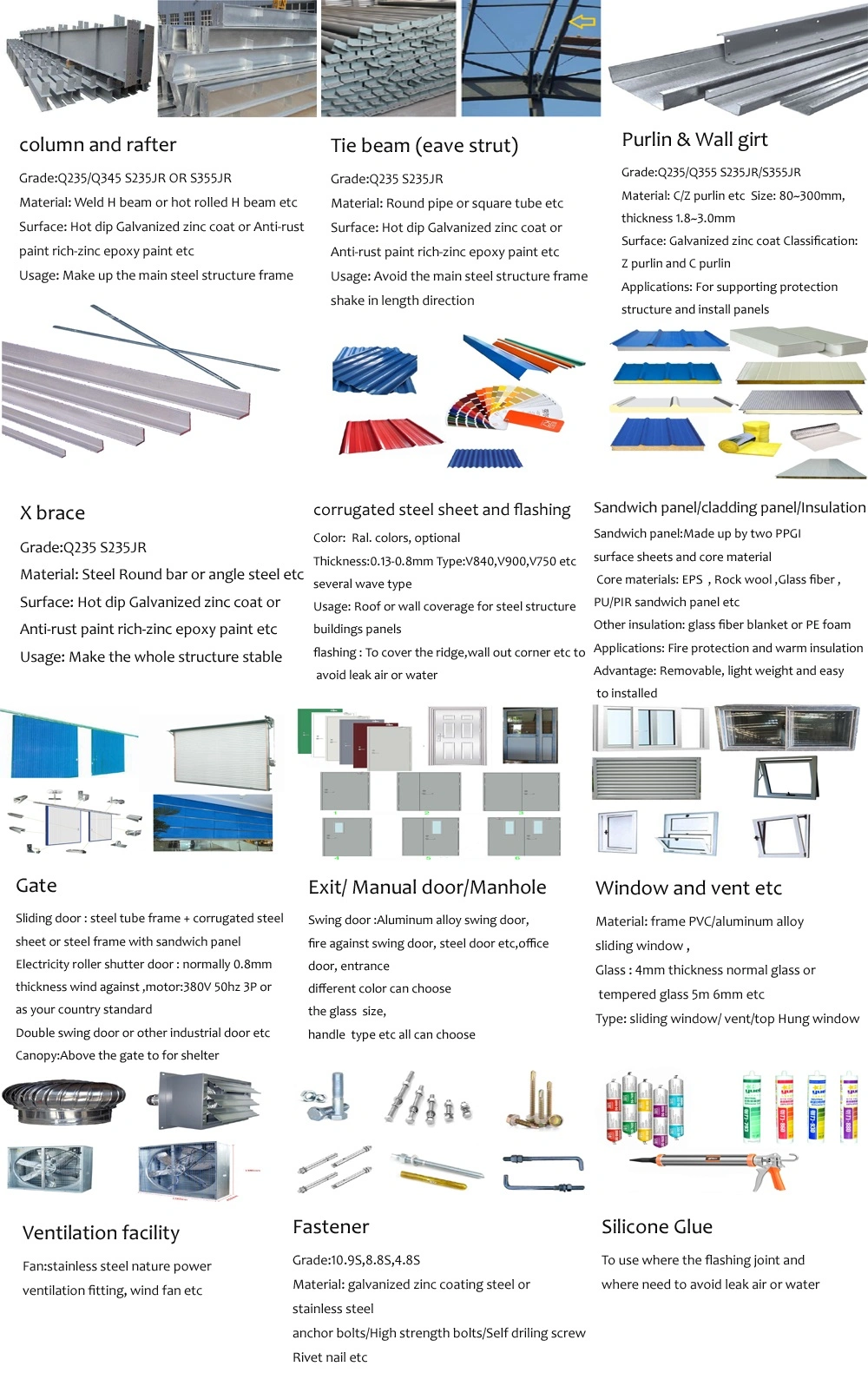 How to order a steel structure dairy cow shed building from us?
QINGDAO STEEL BUILDING CO.,LTD
1.Project location?
2.how many head of cow will you feed for each building?
3. Load of your building:

(if you really do not know, we will design according experience from the client your place ) Wind speed(KM/H) / Snow load (KG/M2) if have / Earthquake load if have

4..Size: Width x Length x Eave height ?
5..Roof and wall coverage material?
6.Any window and door ?
7.Surface treatment : Paint or hot dip galvanize
8.Other special demand?
Company Name

Qingdao Steel Building Co.,Ltd

Application




(

Use

)

Cattle shed,cattle barn, cattle building, cattle housing,cattle house, Cow shed, cow barn, cow building, cow housing, cow house,
Dariry shed, dariry barn,dairy building, dairy housing, dairy house,
Beef shed ,beef barn, beef building, beef housing, beef house,
Cattle farm, cattle farming, cow farm, cow farming, dairy fram, dair faring, beef farm, beef farming

Building type

Opening
-- suitable for the warm and hot area ,
closed with window,
--suitable for the cold weather,

Cattle type

cattle,cow, milk cow, beef,

breeding type

Breeding in barriers, Free-range feeding

Grade

Q355(S355JR)or Q235(S235JR) steel or as request

Clear span:
(width)
6~35m
popular width:6m,10m,12m,20m,25m

Height

2.6~3.6m
popular height 3.2m

Popular bay

4m or 6m

(column distance)

Length

as your requirement
popular length 70~80m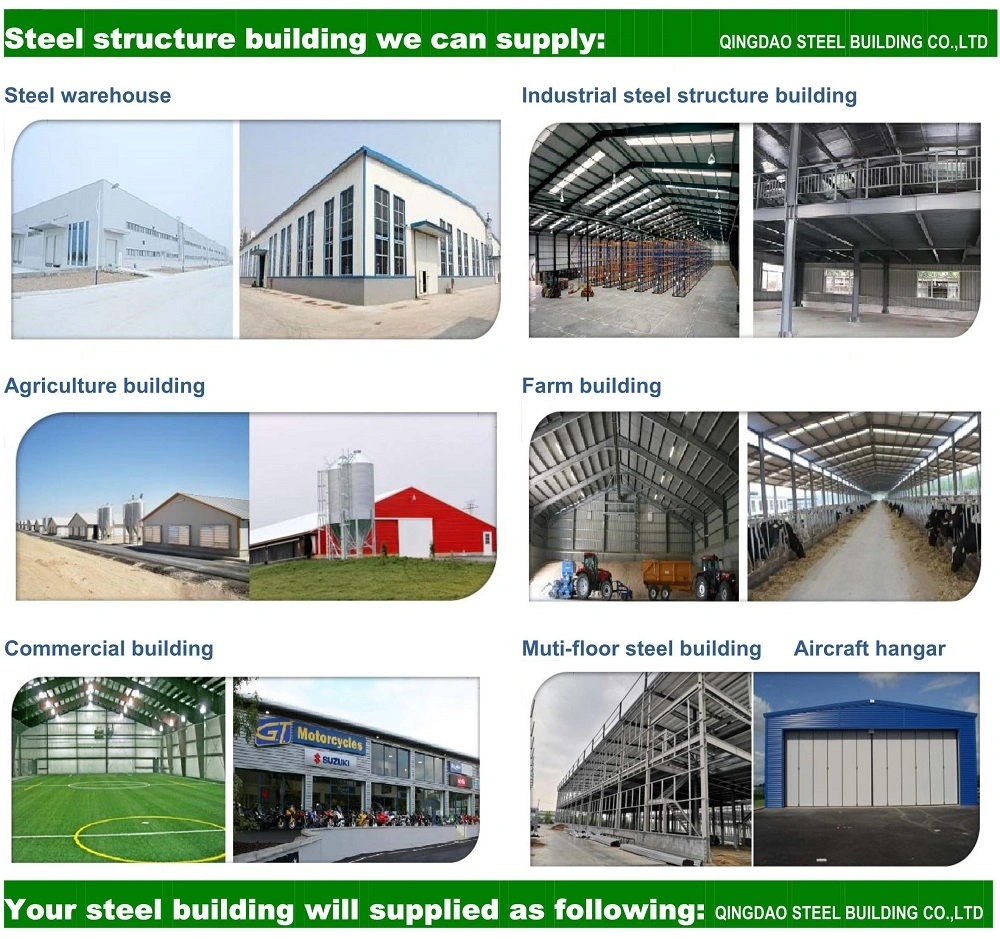 1)All Steel Frame parts with prefabricated. (hole,weld,surface treatment etc)
2)All the Roof and Wall Panels already cut to size for your size structure.
3)Completely window and door with hinge,handle etc hardware
4)Bolts, Screws and pop-rivets needed to secure your structure.
5)flashing and Silicone to further help insulate your structure.
6)Other Accessories you have choose: gutter,water spout,ventilation fitting,stairs etc
7)Other internal simple equipment: curtain, fan, cool, pad, drinking line, feeding line, nipple etc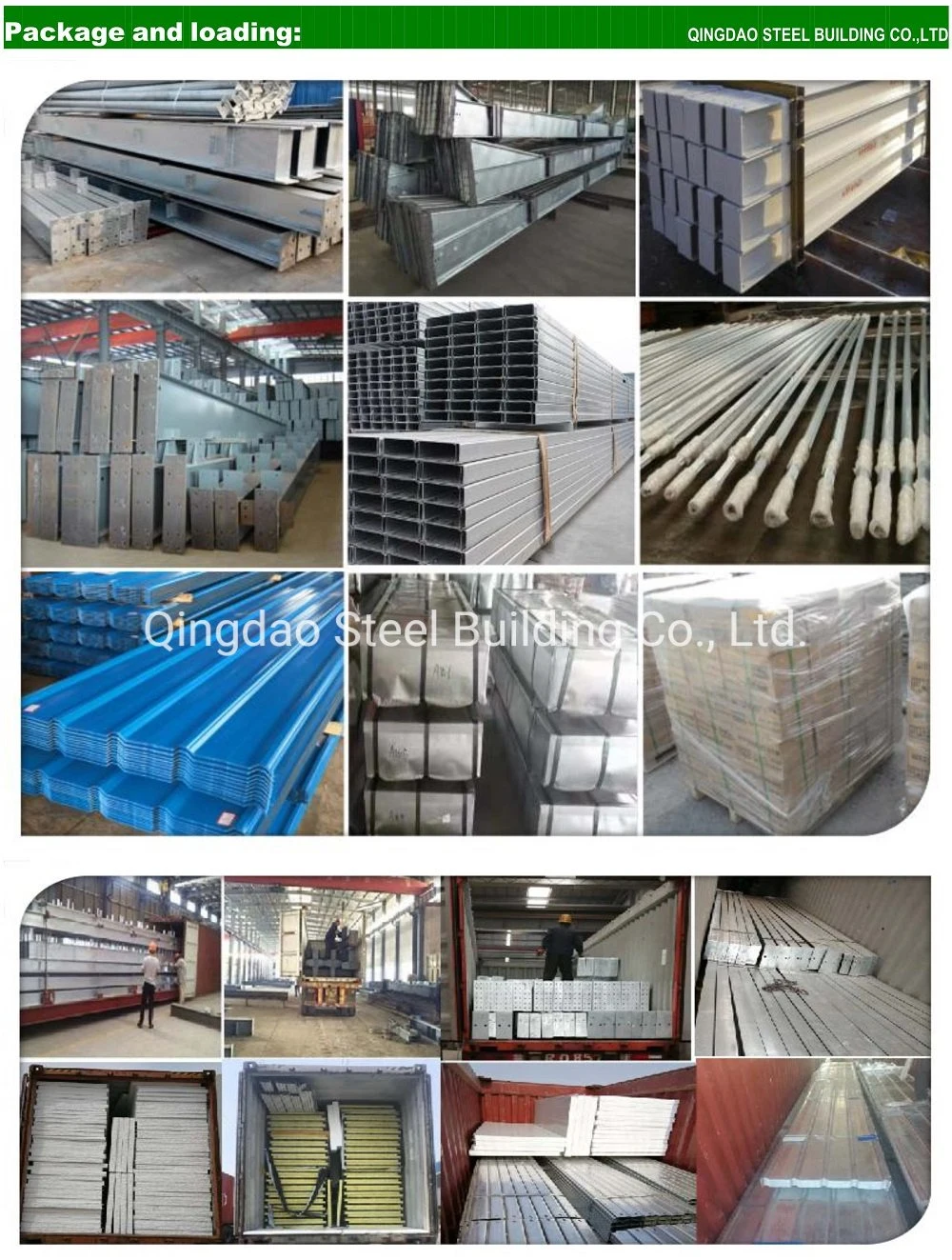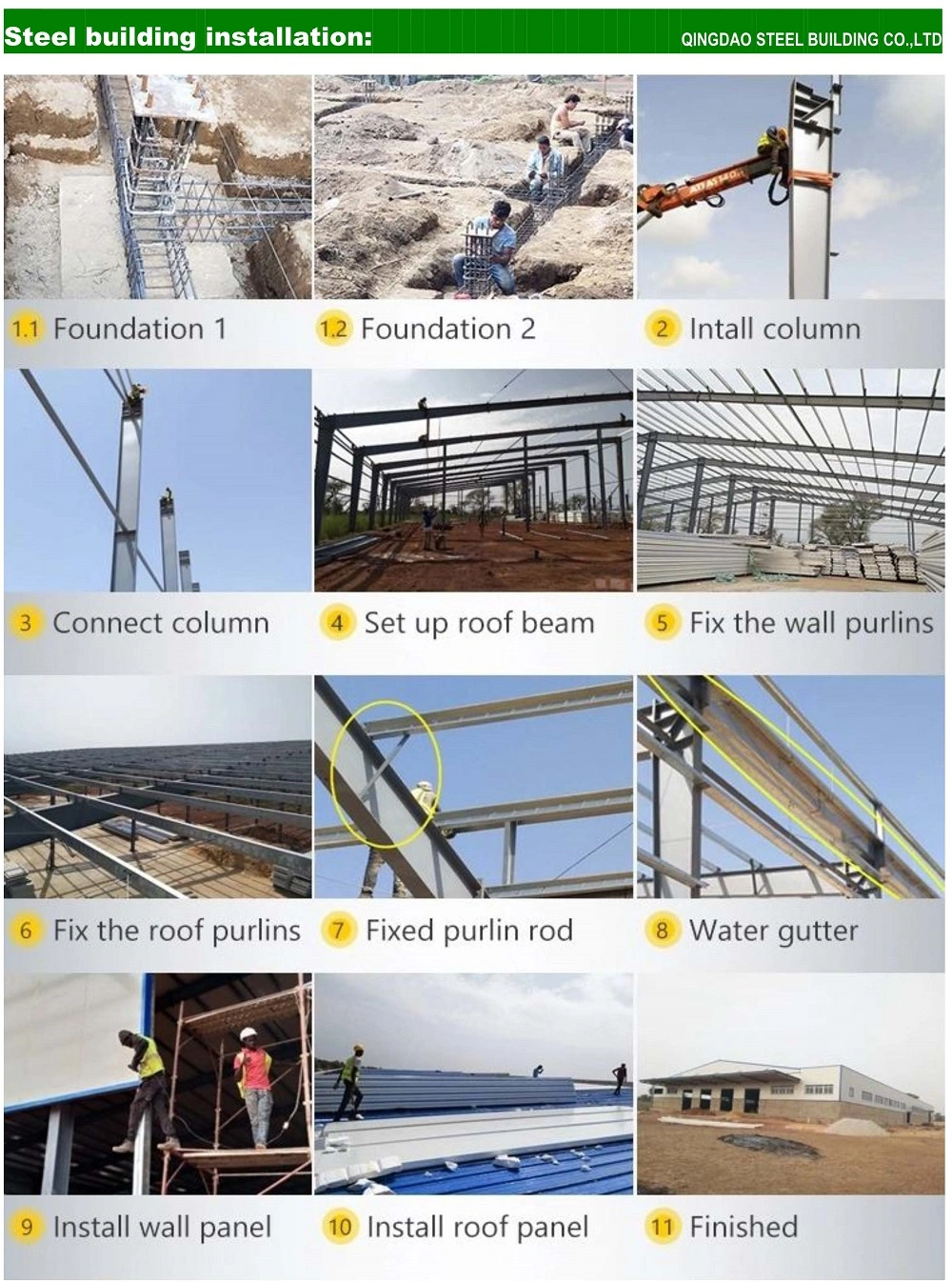 Our certificate:
QINGDAO STEEL BUILDING CO.,LTD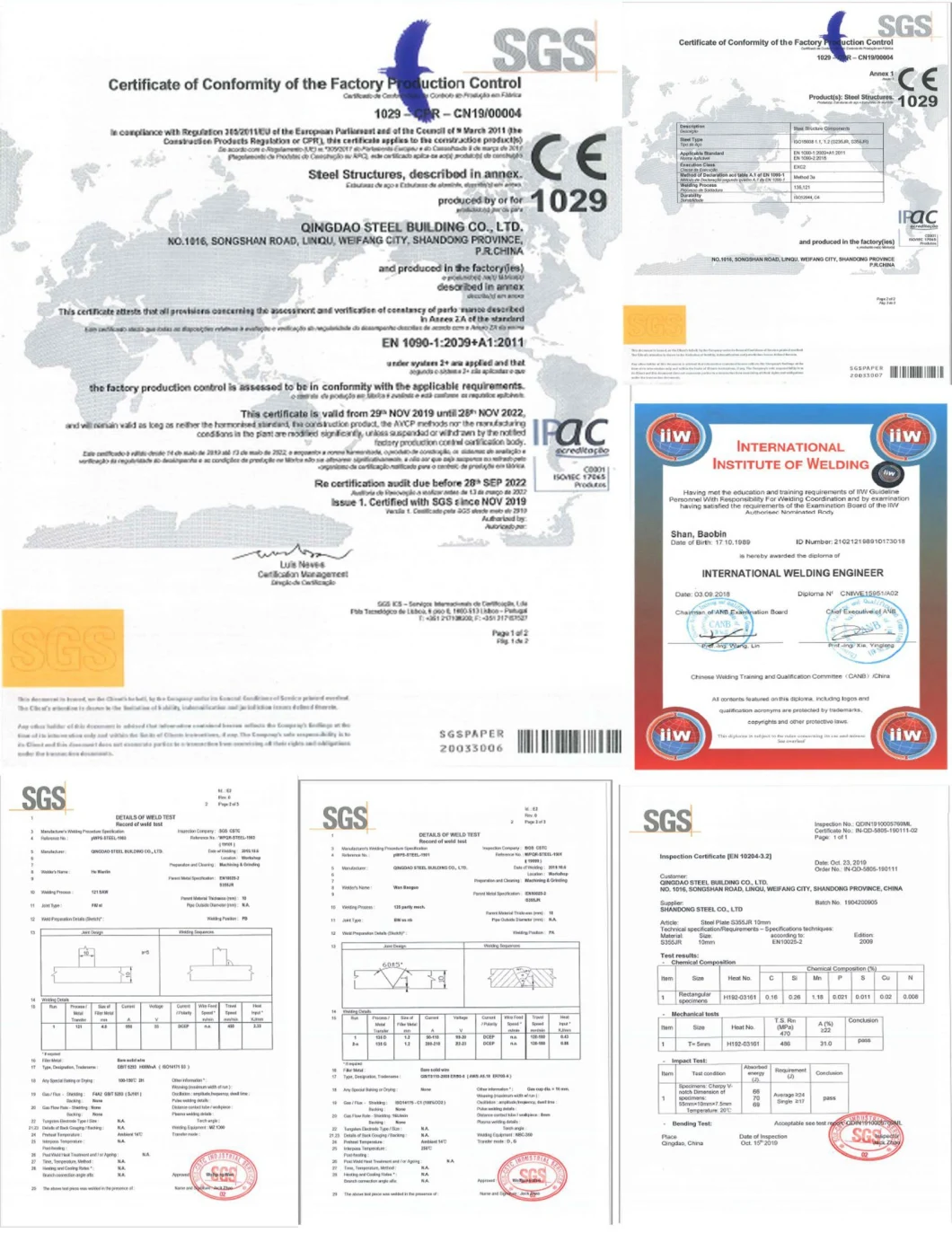 Our company:
QINGDAO STEEL BUILDING CO.,LTD
Qingdao Steel Building Co., Ltd is a manufacturer of steel structure building, we had built many large commercial buildings, aircraft hangars, stands,platform, churches, riding arena

sport hall, sport court,hangar kit, shopping malls

,logistic building,industrial buildings, process plants , steel warehouses, steel workshop,, agricultural buildings,

poultry houses, chicken house, cattle barn, farm building,

and many other steel structures.We have worldwide clients such as Paraguay, Chile, Colombia, Mexico, Australia, New Zealand, Myanmar, Sri Lanka, Maldives, Reunion, Mauritius, South Africa, Angola, Senegal, Côte d'Ivoire, Hungary, France, etc.
Qingdao Steel Building Co., Ltd has 2 complete steel structure production lines. Slitting avoids the edge defects of traditional
flame cutting. Laser cutting parts improves the appearance of the product. The H-beam 3D drilling machine improves the precision
of hole making. The C / Z steel production line has high precision, and various types of profiled corrugated steel plate and
composite sandwich panel production line have greatly satisfied the various needs of customers at home and abroad
Qingdao Steel Building Co., Ltd the annual production capacity is: welding H-beams and steel beams 30,000 tons , 8,000 tons of C and Z-beams,100,000 square meters of sandwich panels, and 8,000 tons of corrugated steel plates and coils.
Qingdao Steel Building Co., Ltd has an experienced team that provides you with good demand communication services and a free budget plan before sale, and provides a full set of detailed design drawings, production progress pictures and videos, quality inspection reports, etc all your questions during the sale. after-sale,we provides various help for your project construction, and really makes your purchase assured.
Qingdao Steel Building Co., Ltd has various patents and international certifications such as SGS, Bureau Veritas, EN1090 EXC2, CE,
IWE, ISO9001.3.2 material certificate, welder certificate, etc.
We will do our best to get you the steel structure you expect.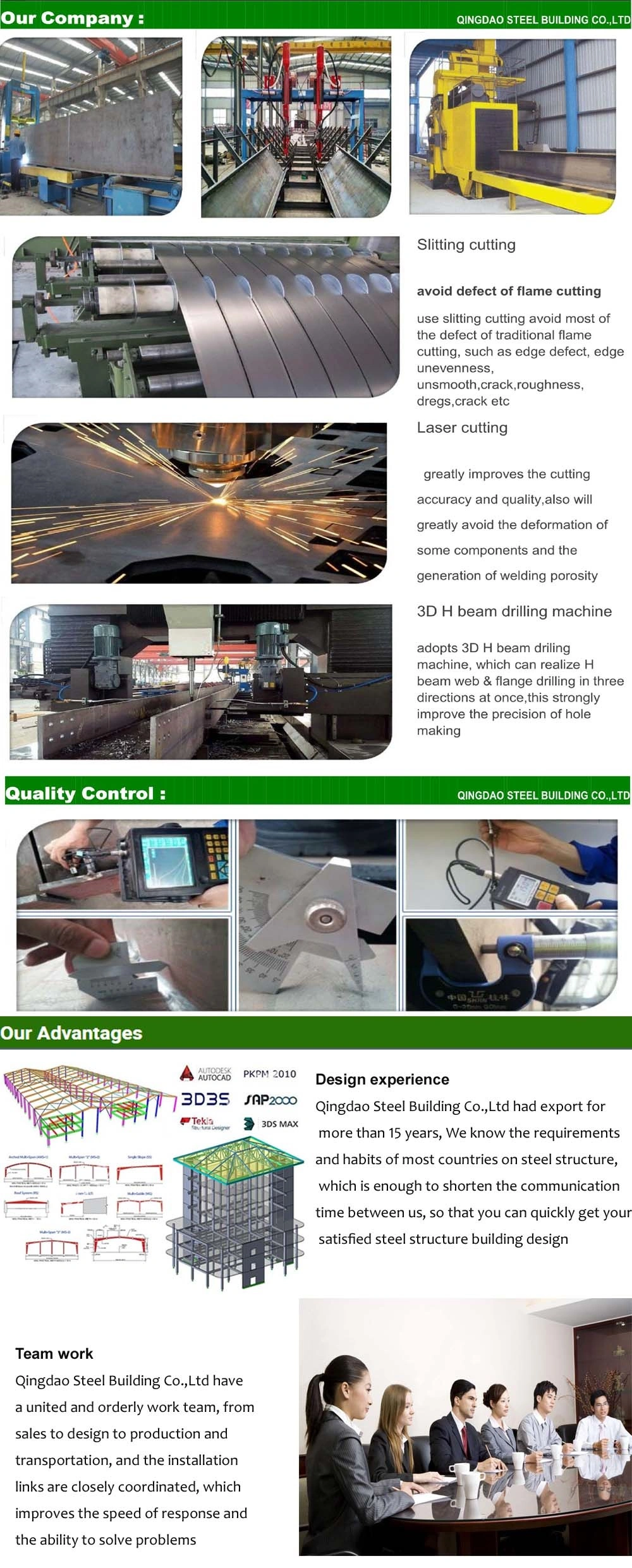 1)Is your company a factory or trade company?
We are factory, so you can get the best and competitive price.
2)What's the quality assurance you provided and how do you control quality ?
Self inspect every steps during the design and fabricate, the third inspect party aslo be accept.
3) Do you offer guiding installation on site overseas for warehouse building?
Yes, We can send our professional technical engineer to supervise installation on site overseas. They have succeeded in many countries, such as Iraq, Dubai, South Africa, Algeria, and Ghana.
4) What is your main market?
Europe, Africa, Middle east asia, south east asia, Australia, New Zealand, south America etc