Specification:
1. High pressure water, Three color shampoos, Waxing.
2. One rotation arm provides 360° liquids spray on vehicle surface.
3. Chassis Sprinkling systems can wash the vehicles bottom and tires.
4. Built-in Dryers equipped with four high efficiency motors and fans.
5. Touch Screen operate panel with different washing procedures.
6.CPU+PLC control system can easy to operate and maintenance.
7. High pressure pumps with free of wipes liquids wash car precisely.
8. Intelligent LED Tip Screen and voice prompt during wash progress.
9. Intelligent three-dimensional perception the vehicle body.
10. Fault Self Checking and Warning systems.
11.With on-site installation ,testing, training.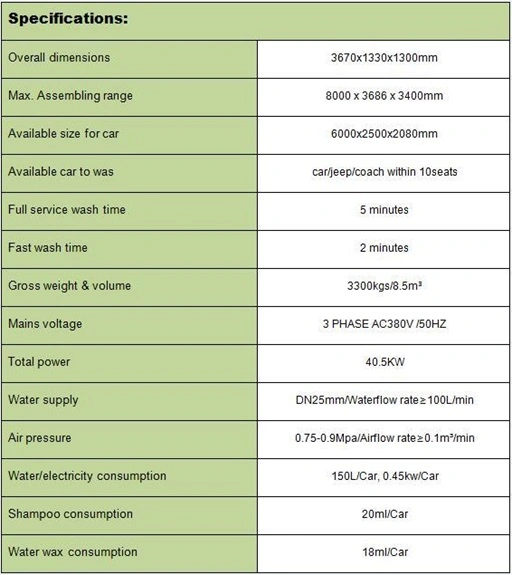 FAQ:
Which service will you offer?
1.Besides to manufacture touch-free car wash, rollover car wash, tunnel car wash, bus and truck wash, wheel wash system with our own brand. We also can design and manufacture the machine at all customer's requirements.
Who will install my car wash?
2. We offer you the site construction design drawings for your car wash bay, then we will send our technician to your side to install and operation training.
How long will the machine quality guarantee?
1. We have made the car wash machine running-in times before leave factory, and the failure rate is approaching zero, for the pumps, motors and electronic components all with high end quality brand.
2. The whole car wash machine guaranteed one year, The wearing parts will offer you additional, such as wheels, chains and nozzles.
3. The working life of the car wash can up to 10-15 years.
Packaging and Shipping:Port :
Qingdao PortHot-dip galvanized steel frame can keep the whole machine stable and long life use plc electronic control system can easy to operate and maintenance fully automatic with photoelectric starting high pressure water washing shampoo washing waxing and dryer